Butt
Aesthetics
---
Butt aesthetics are aesthetic procedures done to lift low and weak hips to create more a more voluminous and attractive look. Thanks to today's modern-day methods there are many ways to make hips look bigger and tighter. If the patient has enough fat ratio in their body fat injections (Brazilian Butt Lift) can provide successful results. Silicone implants can also be used to shape the butt. When done according to the body type and needs of the patient butt aesthetic can provide satisfying and long-lasting results. That is why it is of the most preferred operations of the present day.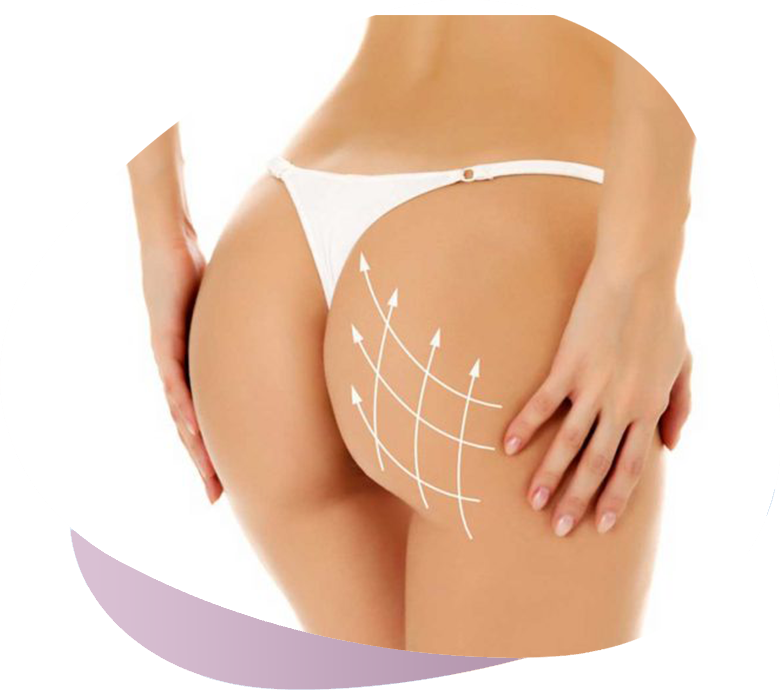 Why Are Butt Aesthetic
Surgeries Done For?
Lifted and curvy hips accentuate femininity. Can help women feel more attractive and be in peace with their bodies. To achieve this look muscles called "gluteus muscles" should be large and developed. When this muscle is not developed butt structure may appear flat and saggy. To achieve the popular lifted heart shaped butt look, butt aesthetic surgery can help.
How Are Butt Aesthetic
Surgeries Done?
Many methods are used for butt aesthetic surgeries nowadays. Paying attention to hip and body type, request and expectations of the patient, aesthetic surgery method is chosen. Brazilian butt lift (BBL), butt augmentation with implants and butt lifts are the most common butt aesthetic surgeries of the present day.
What Is a
Brazilian Butt Lift?
Brazilian butt lift is an aesthetical procedure done with fat transfer that aims to make butt look rounder and tighter. At Brazilian butt lift to shape the butt implants are not used. No intervention is done on sagging butt skin like it is on classical lifting surgeries. Therefore, is a suitable procedure for patients with minimal sagging on their butt area.
Who Can Get a
Brazilian Butt Lift?
Like mentioned above Brazilian butt lift is done on patients that do not have too much sagging. And is ideal for patients with enough fat on their bodies that prefer butt augmentation without implants.
How is Brazilian
Butt Lift Done?
First step of Brazilian butt lift is fat removal from the body with liposuction. The surgery is done under general anaesthesia. Different areas to apply liposuction on may be preferred but generally thigh, waist, hip, and belly area is preferred. The removed fat is then injected to targeted areas with the help of special cannulas.
Brazilian Butt Lift
Aftercare
For about 2 weeks after the Brazilian butt lift surgery, butt area should be protected from pressure. Patients should avoid sitting directly on their butt or laying on their back. At this point round pillows shaped like bagels can allow patient to sit on their thigh area.
Butt Augmentation
With Implants
Butt implants are widely used to make hips look fuller and to bring out the lines of lower body. Before Brazilian butt lift became popular around the world, butt implants were seen as the gold standard. Butt implants like breast implants are made of silicone. Butt implants can be textured, straight, oval, or round. But are harder than breast prosthesis and therefor have a lower chance of exploding or being damaged.
How is Butt Augmentation
With Implants Done?
Butt implants surgery is done under general anaesthesia. Incisions can be done on various locations depending on the patient's needs. Implants can be placed over or under the butt muscle "gluteus maximus". Butt augmentation with butt implants can be done on patients that are too thin or do not have enough fat for fat transfer. When necessary implants can be combined with fat injections. Butt aesthetic surgeries usually last for 1-2 hours.
If the patient has complaints about sagging butt, tissues at the butt area can be lifted using special surgical threads.