Tummy
Tuck
---
 Tummy tuck is a surgical procedure that gets rid of the excess fat and skin on the stomach area allowing patients to look slimmer and more fit. Belly area fat may be difficult to get rid of. Workouts and diet might not provide the desired results. Tummy tucks is the most preferred method when it comes to help fix the saggy appearance of the belly area after pregnancy.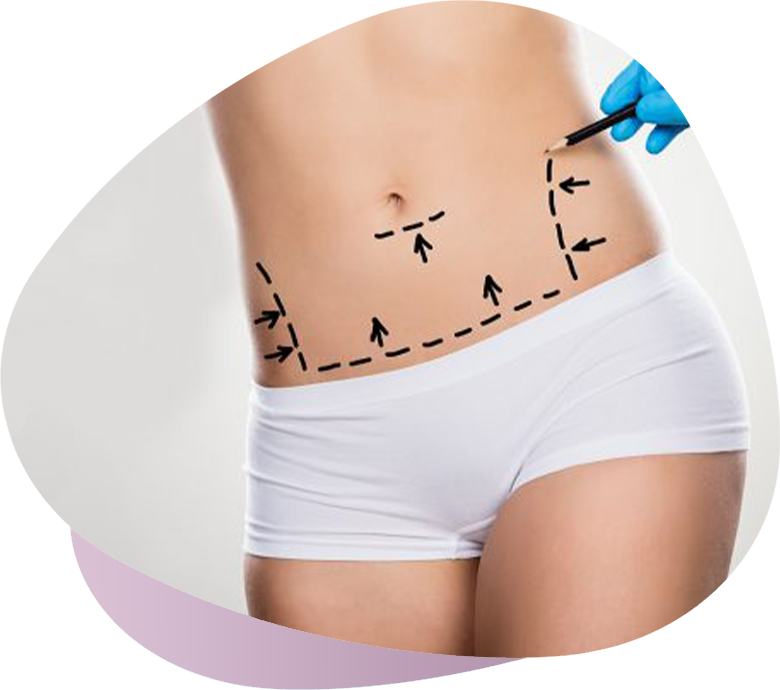 What is Tummy Tuck
Surgery? Why is It Done?
Tummy tuck also known as "abdominoplasty" can help belly area become smoother and slimmer by removal of the excess skin and fat from the area. Excess fat around the belly area is a highly common complaint. Excess fat may accumulate in the area after pregnancy and childbirth. Skin may sag and cause the patient to look fatter. Tummy tuck is done to remove the stubborn fat and to help patient make peace with their own body image.
Who is Suitable for 
a Tummy Tuck?
To get the most successful results from the surgery skin elasticity holds the biggest importance. If done after pregnancy period, at least 6 months should have passed after pregnancy. Tummy tucks can be done on anybody with good general health. Before surgery doctor can examine the patient's, medical history and evaluate if they are suitable for the surgery. Depending on the degree of sagging doctors may also use liposuction for the best results.
Tummy tuck is done under sterile surgery room conditions and under general anaesthesia. Patients do not feel any pain or discomfort during surgery. During tummy tuck surgery an incision is made in an area close to groin, then skin is pulled from that area and excess fat is removed. Abdominal muscles become tighter and get their former hardness back. After skin is tightened aesthetic stitches are done on the area, belly button is repositioned and to be more compatible with the new tightened tummy. This surgery can also help fix stretch marks and create a smoother skin.
How Long Does Surgery
Last?
Tummy tuck surgeries can be planned according to patients requests and needs. Procedure may lose longer on some patients and may last shorter on others. But surgery is expected to last around 3-3,5 hours.
What is Mini
Abdominoplasty?
Some patients may not need a full tummy tuck. A partial tummy tuck be enough to eliminate any aesthetic problems on some patients. Mini abdominoplasty lasts around 1-1,5 hours. On mini abdominoplasty surgeries less skin and fat are removed.
Abdominoplasty
After Care
Abdominoplasty is done under general anaesthesia and may require a few days of hospital rest for patients to completely recover. In this period patients are required to take small walks. Pain during healing process is maintained via painkillers. Antibiotics may be prescribed to stop infection from happening.
The most crucial thing after tummy tuck is garment usage. For tissues to heal and belly area to gain the desired shape a garment must be worn regularly for 1 month. Full recovery may vary on the skin structure and attention to after care of the patient.
Can You Get Pregnant After Tummy
Tuck?
Surgery does not create an obstacle to surgery patients can get pregnant after tummy tuck. But this process may require some planning. Pregnancy right after surgery can be risky. 6 to 12 months after surgery it is safe to get pregnant. After pregnancy new cracks and fat accumulation may occur in belly area. So, if patient is planning a pregnancy soon its best to delay the surgery.